What is Mackeeper:
Mackeeper is a security software with features broadly categorized in four areas: Cleaning, Performance, Security, and Privacy. It was originally developed and distributed by Zeobit LLC. In 2015, Kromtech Alliance Corp, a German-based IT investment and development company, purchased Mackeeper from Zeobit. At the end of 2019, Clario Tech, a London-based security & privacy company, acquired Mackeeper and its operations from Kromtech. Since then, Clario has taken over the development and distribution of Mackeeper.
Is Mackeeper Legit?
Yes. The current version of the software is actually pretty good at what it does: protecting your Mac from malware and keeping it running at its best.
Why the Criticism?
In the past, Mackeeper has been under heavy criticism in the Apple community. This was mainly because Mackeeper's third-party affiliates used extremely aggressive marketing tactics to promote it and the company (Zeobit LLC) did nothing to prevent them from using shady promotion tactics such as pop-ups, unsolicited emails, and automatic downloads, etc. Moreover, the fact that Mackeeper used to be so hard to uninstall did not help either.
Mackeeper has come a long way since then. The current parent company of Mackeeper i.e. Clario Tech has a good reputation in the security and privacy industry and they have completely revamped the software as well as their marketing strategy. They have banned third-party affiliates from running pop-ups and malvertising ads. As of today, this is what their advertising guidelines look like: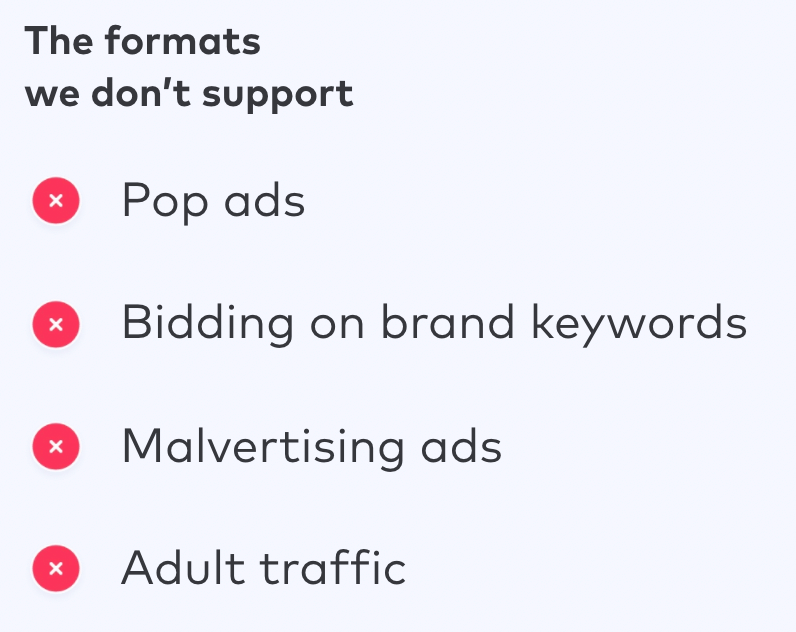 Is Mackeeper a Scam?
Short answer? No.
Mackeeper has been certified by AppEsteem – the gold standard for app quality and reliability. AppEsteem certification process requires a rigorous review from both technical and consumer-protection standpoint. In addition to the AppEsteem certification, Mackeeper has also been notarized by Apple and Certified by AV-TEST.
It's no longer true that Macs don't need any malware protection or performance optimization. Sure, they are better optimized than Windows, and malware threats are generally targeted at Windows. But with malware (viruses, ransomware, etc) on the rise, it is time that we acknowledge the need for good security software for our Macs.
Mackeeper Review
I decided to get a license and test it out myself on my Mac. Below is my impartial review of Mackeeper:
Installation:
Installation is pretty simple. You download the .pkg file, open it, and follow the on-screen instructions in the installation wizard.
Here is how the main screen looks: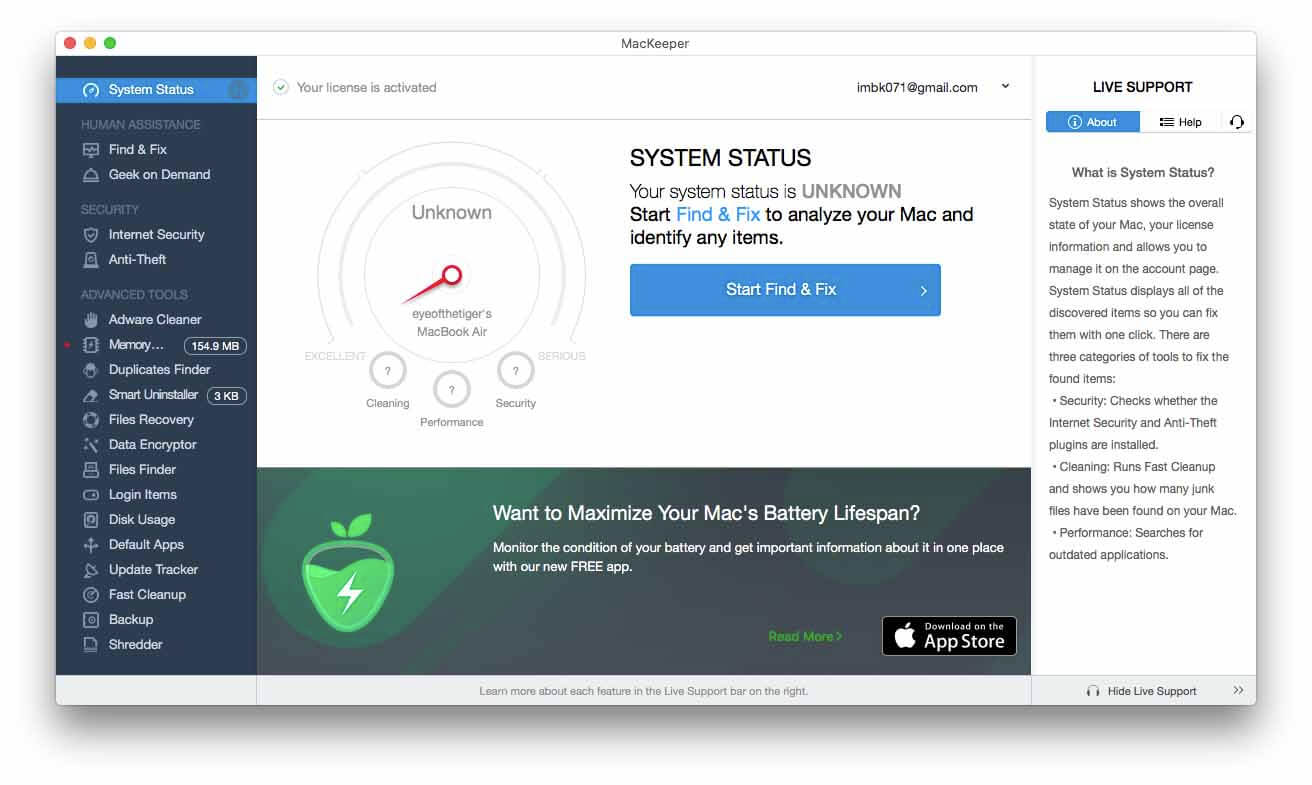 Memory Cleaner:
My Mac has 4GB of memory and sometimes it struggles with performance due to lack of memory. Running Mackeeper every now and then helps me free up some RAM and that comes in real handy. I just ran the memory cleaner and managed to free almost 400MB of RAM.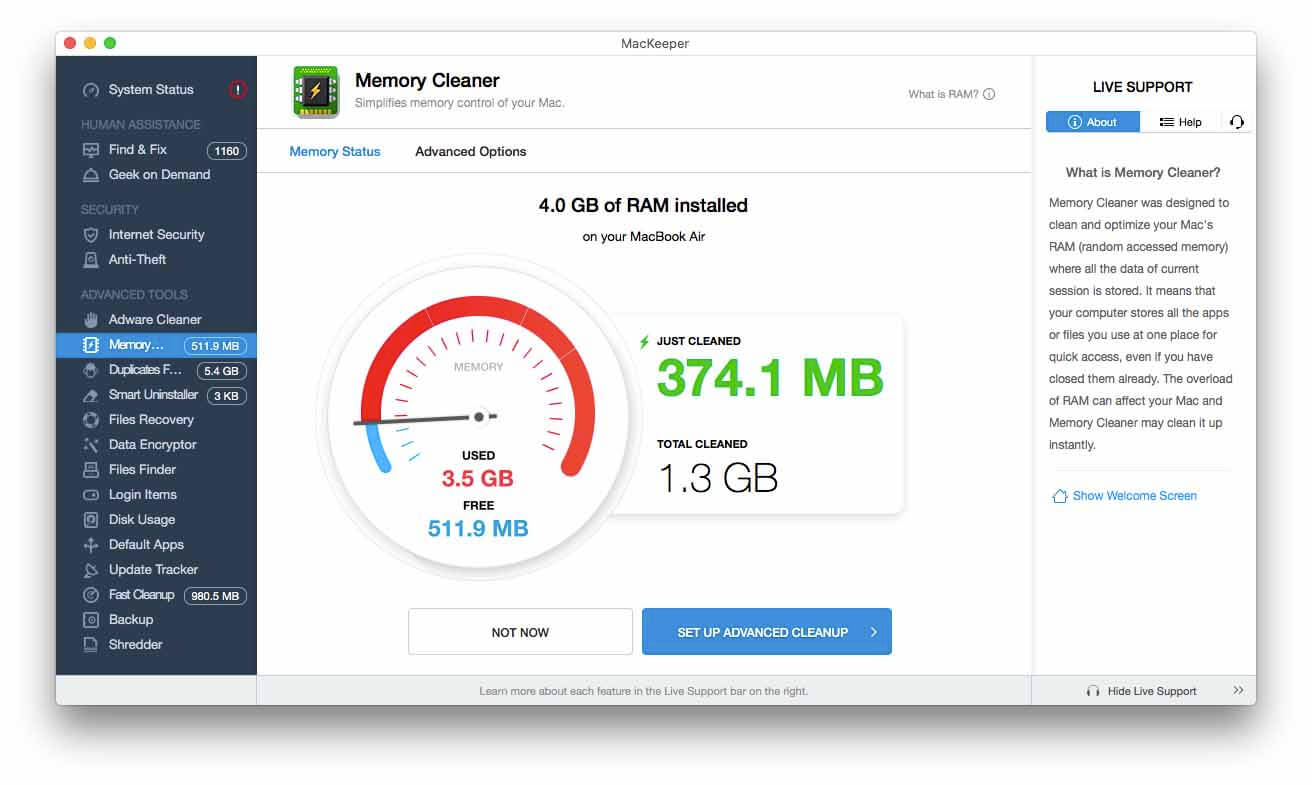 Duplicates Finder
The duplicates finder detects file copies that take up hard disk space on your Mac. It groups such identical files even if they were renamed so that you can decide to delete them or transfer them to an external storage device to free up hard disk space on your Mac.
You can also group the duplicate files by file type. For example, clicking on the "video" tab in the duplicates finder module will only show duplicate video files. Here's a screenshot of the duplicates finder screen: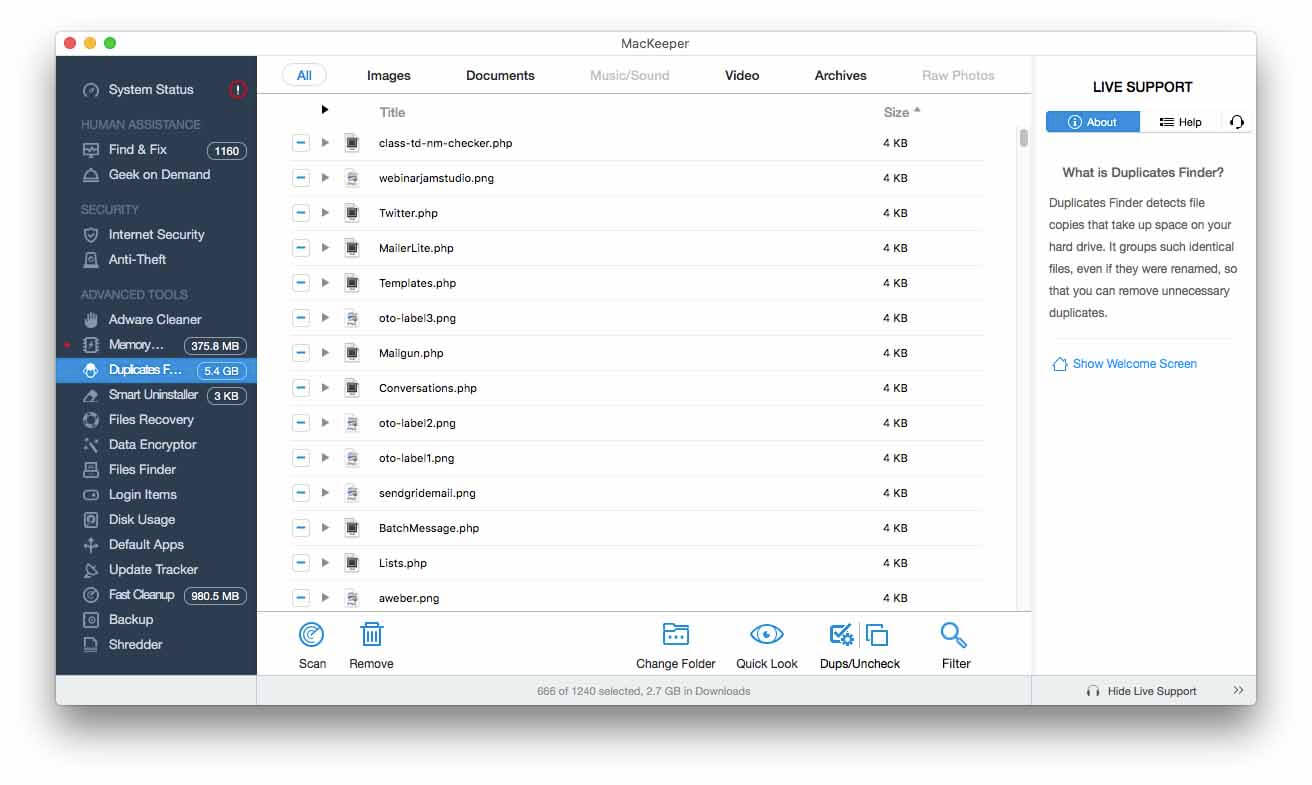 Smart Uninstaller
This is a nice handy tool to uninstall apps from your mac properly. Just deleting apps from the "Applications" folder is not enough. This is where Mackeeper comes in. It shows you a list of apps you can choose to uninstall from. Then after uninstalling it, it scans your entire hard disk for leftover files associated to that app and removes them. This not only saves storage space but also helps with the performance of your mac.
Login Items
This module simply shows you the list of apps that start with your mac. You can add or remove apps in your login items by clicking the + or – sign.
Disk Usage
The disk usage module scans your hard disk and lists all files and folders present on it along with the size of the folder right next to its name. The folder size is displayed in 4 colors (red, orange, yellow, green) depending on the size of the folder.
Anti Theft:
The anti-theft module serves two purposes. One, it prevents unauthorized access to your mac. Two, it helps you track your mac in case it gets stolen. You set it up once, and in case your Mac gets stolen, you can use the web interface on mackeeper's website to track your Mac's location and even take a photo of the intruder/thief using your Mac's iSight camera.
Mackeeper Price
Mackeeper comes with a monthly price tag of $10.95/month for 1 Mac. You can choose the yearly option at $71.40/year which saves you 40%.
If you have more than one Mac (like me), you should go with the 3-Mac plan priced at $89.40/year.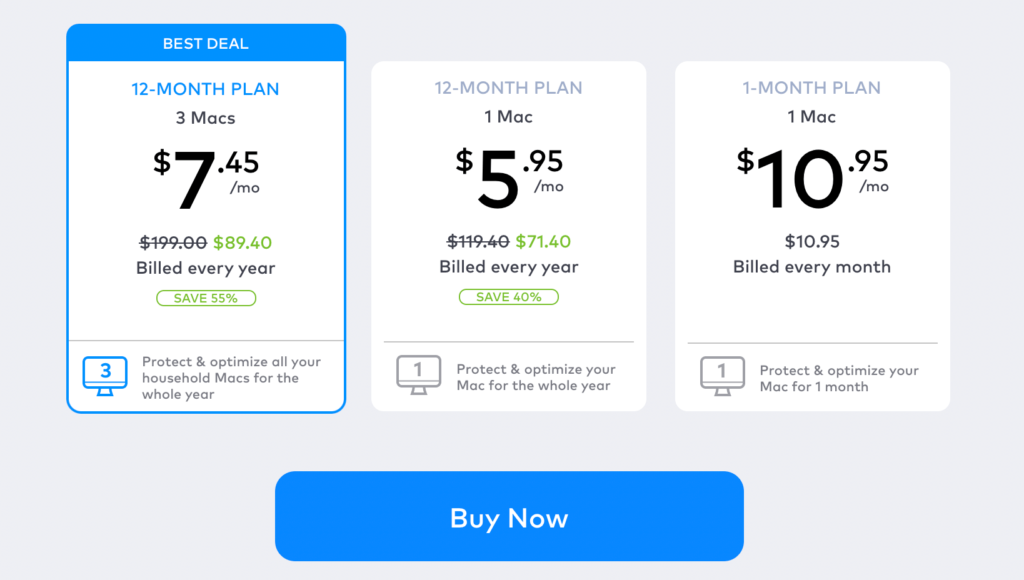 In my opinion, Mackeeper is reasonably priced. I don't like one-off cost software because generally, it is not well-maintained. A monthly/yearly pricing structure supports the maintenance/updates of the software.
Is Mackeeper worth the price?
Yes. It has a great set of tools to provide a decent level of protection for your Mac and keep it running smoothly. I plan on keeping my subscription active and running Mackeeper every now and then to clean up junk from my Mac.
I used to hate Mackeeper as much as any Mac user when I saw annoying pop-up ads and forced downloads without my permission. Once installed, it was extremely hard to remove from your Mac. But since Mackeeper changed hands in 2019, that all has changed. As mentioned earlier, they have banned aggressive ads and automatic downloads. As for the uninstallation, they have published an official uninstallation guide on their website.
I even tried uninstalling Mackeeper and it is a pretty straightforward process now which only took me a couple of minutes.
How to uninstall Mackeeper?
Below is the 3-step process to uninstall Mackeeper from your Mac:
Total Time: 1 minute
Quit Mackeeper
Quit Mackeeper by pressing Cmd + Q. You can also quit it from the menu bar by clicking Mackeeper (next to the Apple icon on the top left of your screen) and then clicking Quit Mackeeper.
Move Mackeeper to Trash
Go to your Applications folder in Finder. Find Mackeeper and drag it to Trash (Bin). You can also right-click and choose Move to Bin.
Confirm Uninstallation
It will ask you to confirm that you want to uninstall Mackeeper and provide your admin password. Do that and it will be uninstalled. Restart your Mac afterward to remove any leftover files.