If you're a Mac user, you've probably heard of Mackeeper at some point. In the past, Mackeeper has had a somewhat questionable reputation, with many users reporting aggressive advertising tactics and questionable marketing claims. However, recently Mackeeper has undergone some major changes, including being acquired by a new company. With these changes in mind, it's worth taking a fresh look at Mackeeper and evaluating whether it's a useful utility for Mac users.
In this review, we'll delve into the features and functionality of Mackeeper, examining what it can do and how well it performs. We'll also address some of the concerns that users may have had in the past, such as whether it's safe to use and if it's worth the cost. We'll explore the new features and improvements that have been made, giving you a comprehensive understanding of what Mackeeper has to offer.
Whether you're a seasoned Mac user or new to the platform, this review will provide you with all the information you need to decide if Mackeeper is right for you. We'll give you an honest, unbiased assessment of the utility, so you can make an informed decision about whether to add it to your Mac toolkit. So, let's get started!
What is Mackeeper:
Mackeeper is a security software with features broadly categorized into four areas: Cleaning, Performance, Security, and Privacy. It was originally developed and distributed by a company in Ukraine, named Zeobit. In 2013, Kromtech Alliance Corp, a Germany-based IT investment and development company, purchased Mackeeper from Zeobit.
At the end of 2019, Clario Tech, a London-based security & privacy company, acquired Mackeeper and its operations from Kromtech. Since then, Clario has taken over the development and distribution of Mackeeper.
A Dubious Past
Mackeeper initially gained a reputation for its aggressive advertising tactics, which included pop-up ads and claims that it was necessary to fix problems on Macs. Some users reported that they had difficulty uninstalling the software or that it caused issues on their computers. These factors led some people to believe that Mackeeper was malware designed to harm or exploit a computer.
In addition, there have been various reports and accusations over the years of Mackeeper using deceptive marketing practices, such as claiming to find problems on a user's computer that didn't actually exist.
In 2014, a class-action lawsuit was filed against Mackeeper on behalf of a Pennsylvania resident, alleging that the company had falsely identified security and performance problems on computers in order to sell its full version for $39.95. The lawsuit sought $5 million in damages. Mackeeper agreed to pay $2 million into a fund for those seeking a refund, but not admitting fault, which is common in such settlements.
For more information about Mackeeper's past, I'd suggest reading this 2015 article by Jeremy Kirk on PCWorld.
These concerns contributed to Mackeeper's negative reputation in the Mac community.
Mackeeper customer data exposed
On December 13, 2015, White-hat hacker Chris Vickery discovered a 21 GB trove of MacKeeper customer data while searching for openly accessible databases on Shodan, a specialized search engine that looks for anything connected to the internet.
The lax security measures by Mackeeper publicly exposed the following data of 13 million customers:
Customer names
Email addresses
Usernames
Password hashes
Mobile phone numbers
IP addresses
System information
Software licenses and activation codes
This too added to the distrust of the Mac users on Mackeeper.
Where does Mackeeper stand now?
In 2019, Mackeeper was acquired by Clario, a cybersecurity company. Clario has a good reputation in the security and privacy industry and this acquisition proved to be the turning point for the Mackeper brand. After the acquisition, Clario took steps to improve Mackeeper's reputation. Below are some notable updates since Clario took over Mackeeper:
Notarized by Apple
Notarization is a process that Apple uses to check software for malicious content. It helps protect Mac users from installing harmful apps and provides a warning if an app has not been checked. Any Mac app that is distributed via channels other than the Mac App Store must be notarized by Apple in order to be used on any version of macOS. This ensures that the app is safe and secure for users to install.
In April 2020, Apple recognized MacKeeper as meeting the latest security requirements for macOS Catalina and all later versions by notarizing the software starting from version 4.7.21.
ISO 27001 Certified
ISO 27001 is an international security standard developed by the International Organization for Standardization that sets high certification requirements for the implementation, maintenance, monitoring, and improvement of a company's Information Security Management System.
In March 2021, Mackeeper underwent a review of their source codes to achieve ISO-27001 certification, demonstrating their commitment to data security.
Highest possible score on AV-Test
In March 2022, MacKeeper version 5.8, received highest possible ratings from AV-Test, including a 100% proven virus-detection rate. AV-test scoring system is based on three broad categories i.e. Protection, Performance, and Usability. Mackeeper attained a perfect score of 6/6 in all three categories.
Mackeeper Reviews on TrustPilot
As of writing this review, MacKeeper's rating on Trustpilot is 4.5 out of 5 based on more than 1,800 reviewers, indicating a generally positive response from users.

A word from the CMO of Mackeeper
The Chief Marketing Officer at Mackeeper wrote a guest post on Cult of Mac in January 2022 about Mackeeper's past and the way forward. Here's what he had to say:
Our battle scars have made us wiser and our product better. We now scrutinize everyone we partner with. And this has made our product not only better, but more trustworthy. We've made mistakes, but now we're more careful than ever because we refuse to get burned again.

Andriy Shvets, CMO at Mackeeper
Change in Marketing Strategy
Clario has a good reputation in the security and privacy industry and they have completely revamped their marketing strategy. They have banned third-party affiliates from running pop-ups and malvertising ads. As of today, this is what their advertising guidelines look like: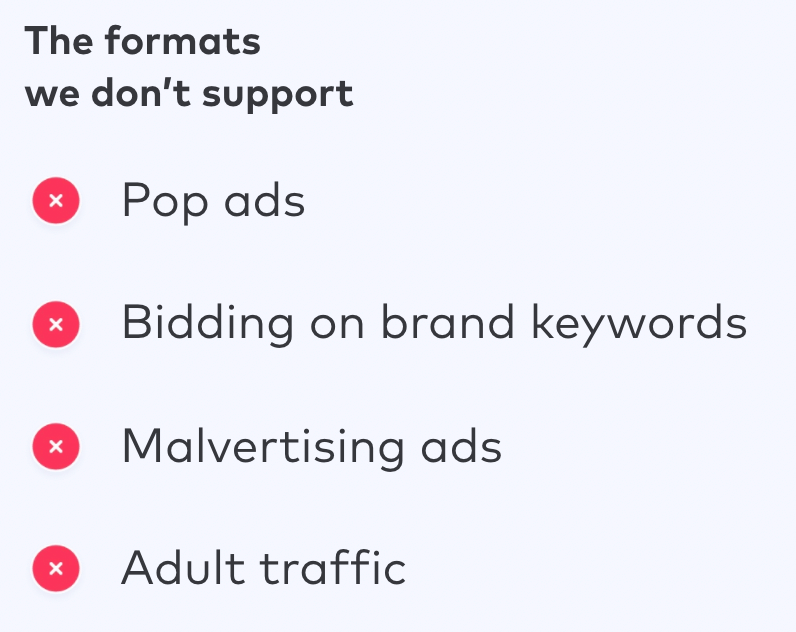 Is Mackeeper Legit or Scam?
While it has had a shady past, the current version of the Mackeeper is actually pretty good at what it does: protecting your Mac from malware and keeping it running at its best.
Mackeeper has been certified by AppEsteem – the gold standard for app quality and reliability. AppEsteem certification process requires a rigorous review from both technical and consumer-protection standpoints.
Mackeeper Review
Now that we've addressed the controversy that surrounded Mackeeper for nearly a decade, let's go to the actual review of the software.
Installation:
Installation is pretty simple. You download the .pkg file, open it, and follow the on-screen instructions in the installation wizard.
Here is how the main screen looks: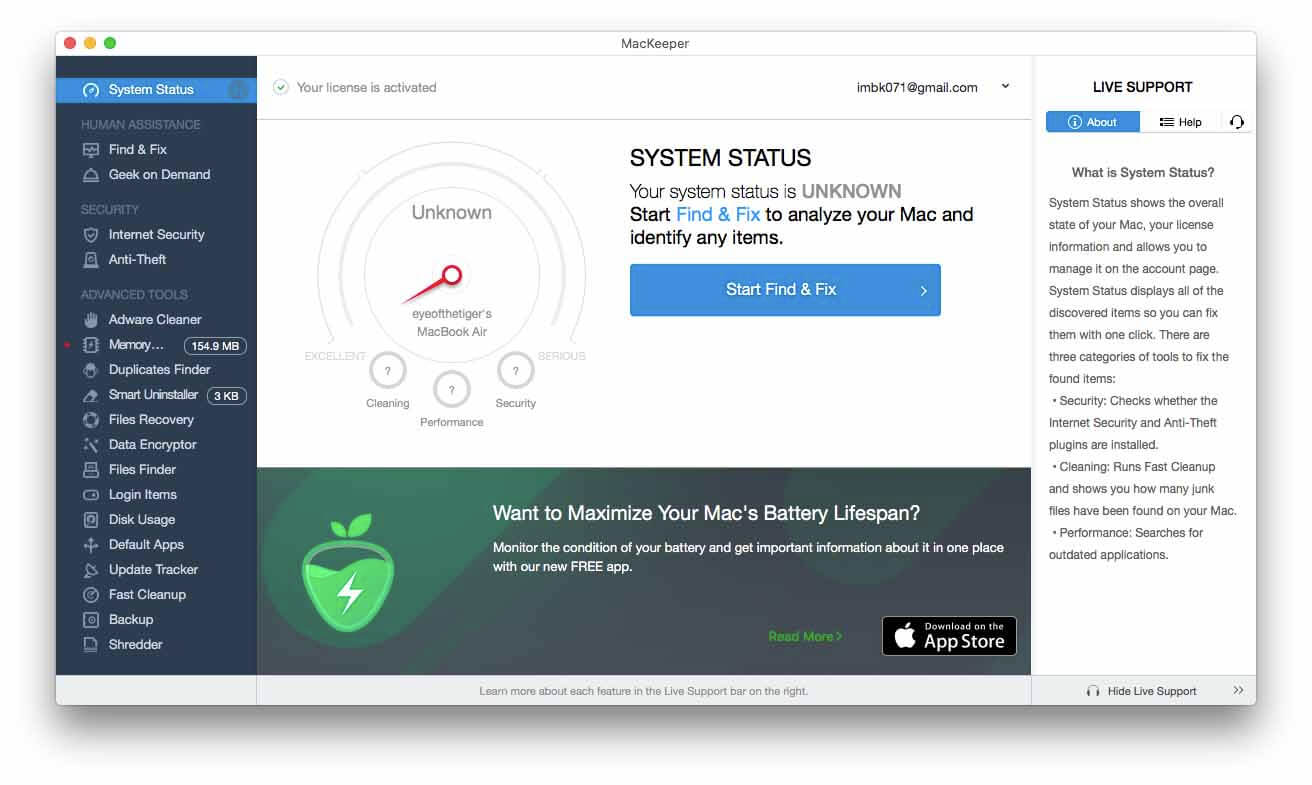 Memory Cleaner:
My Mac has 4GB of memory and sometimes it struggles with performance due to lack of memory. Running Mackeeper every now and then helps me free up some RAM and that comes in real handy. I just ran the memory cleaner and managed to free almost 400MB of RAM.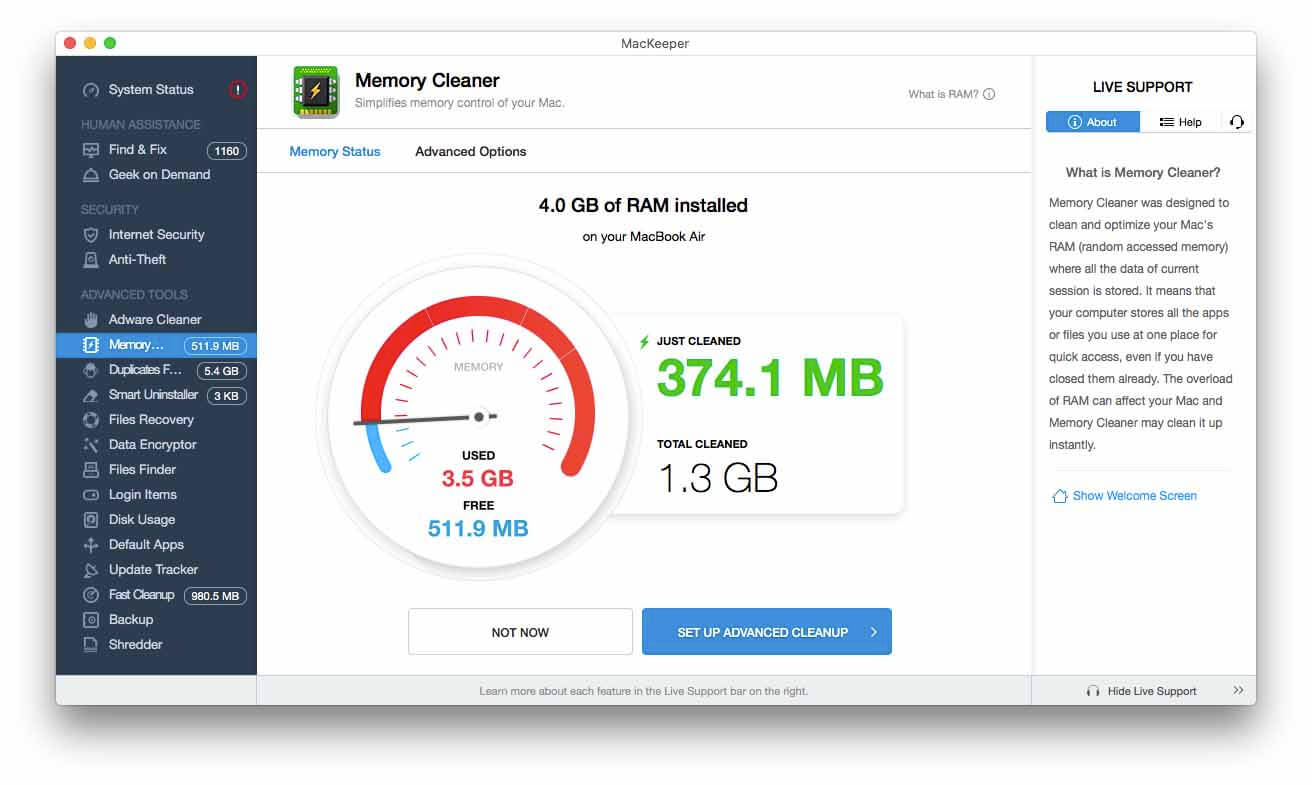 Duplicates Finder
The duplicate finder detects file copies that take up hard disk space on your Mac. It groups such identical files even if they were renamed so that you can decide to delete them or transfer them to an external storage device to free up hard disk space on your Mac.
You can also group the duplicate files by file type. For example, clicking on the "video" tab in the duplicates finder module will only show duplicate video files. Here's a screenshot of the duplicates finder screen: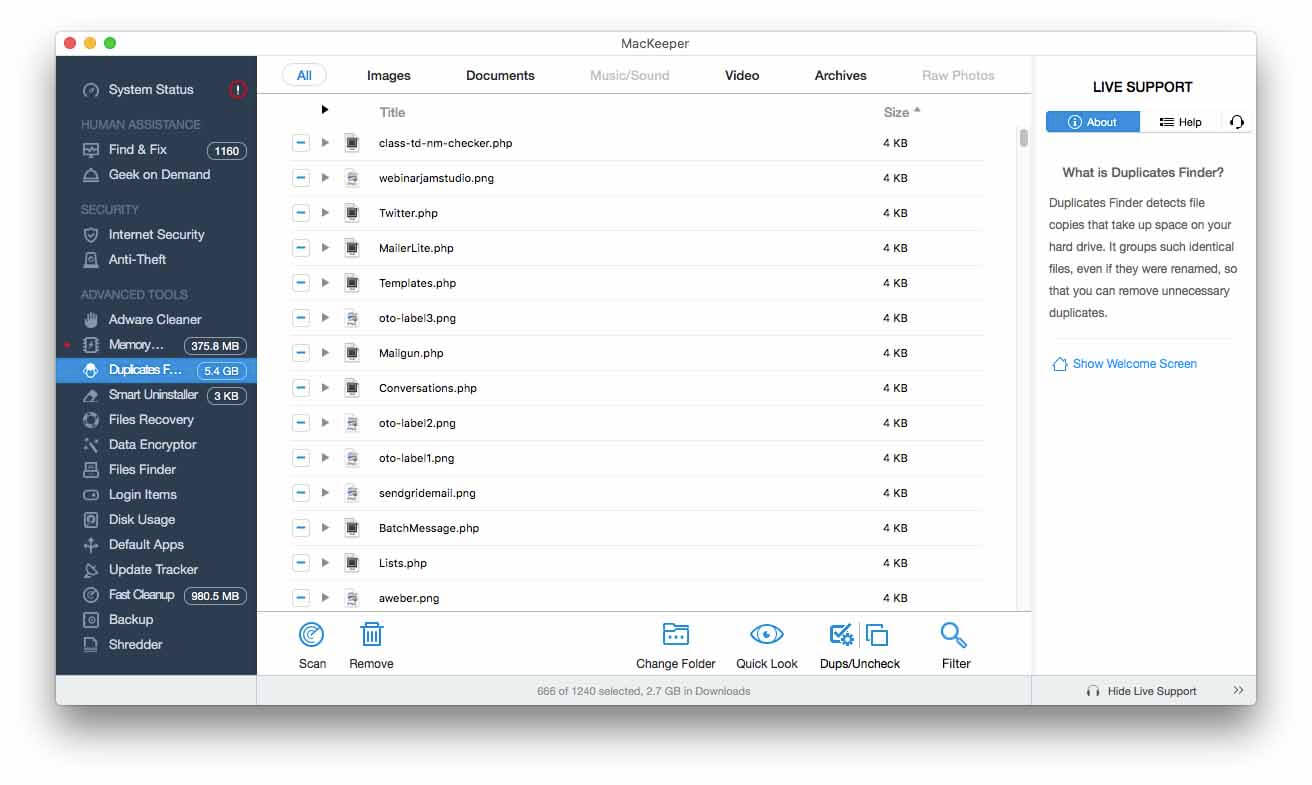 Smart Uninstaller
This is a nice handy tool to uninstall apps from your mac properly. Just deleting apps from the "Applications" folder is not enough. This is where Mackeeper comes in. It shows you a list of apps you can choose to uninstall. Then after uninstalling it, it scans your entire hard disk for leftover files associated with that app and removes them. This not only saves storage space but also helps with the performance of your mac.
Login Items
This module simply shows you the list of apps that start with your mac. You can add or remove apps in your login items by clicking the + or – sign.
Disk Usage
The disk usage module scans your hard disk and lists all files and folders present on it along with the size of the folder right next to its name. The folder size is displayed in 4 colors (red, orange, yellow, green) depending on the size of the folder.
Anti Theft:
The anti-theft module serves two purposes. One, it prevents unauthorized access to your mac. Two, it helps you track your mac in case it gets stolen. You set it up once, and in case your Mac gets stolen, you can use the web interface on mackeeper's website to track your Mac's location and even take a photo of the intruder/thief using your Mac's iSight camera.
Mackeeper Price
Mackeeper comes with a monthly price tag of $10.95/month for 1 Mac. You can choose the yearly option at $71.40/year which saves you 40%.
If you have more than one Mac (like me), you should go with the 3-Mac plan priced at $89.40/year.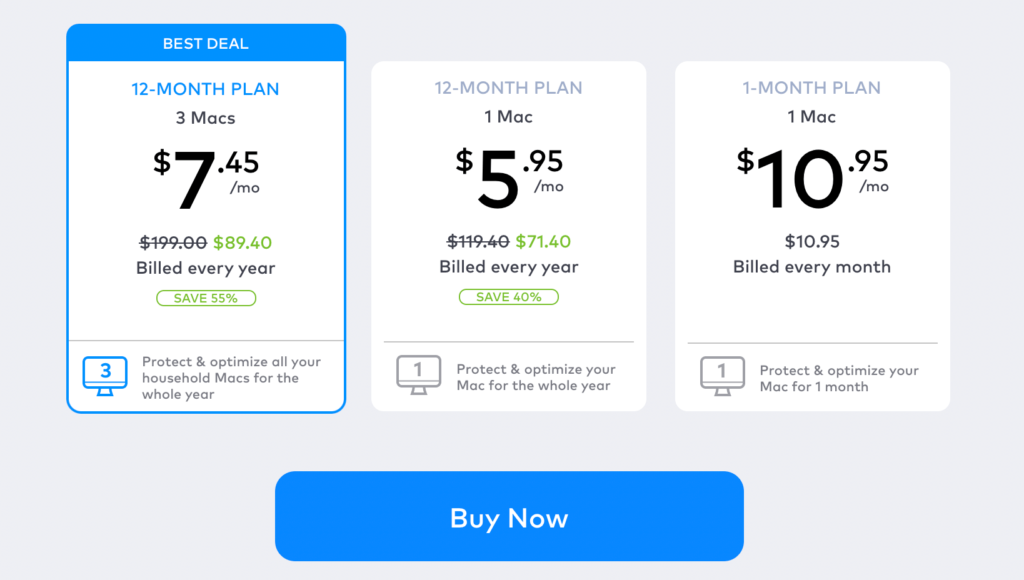 In my opinion, Mackeeper is reasonably priced. I don't like one-off cost software because generally, it is not well-maintained. A monthly/yearly pricing structure supports the maintenance/updates of the software.
Is Mackeeper worth the price?
Yes. It has a great set of tools to provide a decent level of protection for your Mac and keep it running smoothly. I plan on keeping my subscription active and running Mackeeper every now and then to clean up junk from my Mac.
I used to hate Mackeeper as much as any Mac user when I saw annoying pop-up ads and forced downloads without my permission. Once installed, it was extremely hard to remove from your Mac. But since Mackeeper changed hands in 2019, that all has changed. As mentioned earlier, they have banned aggressive ads and automatic downloads. As for the uninstallation, they have published an official uninstallation guide on their website.
I even tried uninstalling Mackeeper and it is a pretty straightforward process now which only took me a couple of minutes.
How to uninstall Mackeeper?
Below is the 3-step process to uninstall Mackeeper from your Mac:
Total Time: 1 minute
Quit Mackeeper
Quit Mackeeper by pressing Cmd + Q. You can also quit it from the menu bar by clicking Mackeeper (next to the Apple icon on the top left of your screen) and then clicking Quit Mackeeper.
Move Mackeeper to Trash
Go to your Applications folder in Finder. Find Mackeeper and drag it to Trash (Bin). You can also right-click and choose Move to Bin.
Confirm Uninstallation
It will ask you to confirm that you want to uninstall Mackeeper and provide your admin password. Do that and it will be uninstalled. Restart your Mac afterward to remove any leftover files.